Lagoon 40 catamaran from 2019
If your plans for your summer holidays are to rent a catamaran in Ibiza, then you will love this catamaranboat rental in Ibiza, an impressive catamaran Lagoon 40, almost new, from 2019. because if you're going to rent a boat in ibiza ou are going to enjoy this new sailing boat. 
The new Lagoon 40 presents a design that facilitates navigation and offers cozy volumes to sail the most demanding waters with the family. The result is a catamaran with 11.74 meters in length capable of reaching high speeds.This catamaran is suitable for coastal cruising as well as for crossing the high seas. It has a capacity of up to 8 people as it has 4 double cabins with individual bathrooms each. All luxury for you to enjoy the island of Ibiza thanks to the option boat rental in Ibiza we have for you in Ibiza.
The huge and comfortable bathtub open to the sea, with different areas for chilling. The table that reigns in the stern has a capacity for eight guests, although up to a dozen people can enjoy the open air comfortably on board.
After our Catamaran Lagoon 450 is probably the catamaran mroe demanded for boat rental in Ibiza and Balear islands.
Rent space and comfort in Ibiza
If you are looking for a luxurious and contemporary catamaran, then you are in the right place. With its grey oak Alpi woodwork finish and milano floor, the avant-garde design is printed on the interior of this catamaran. After many years of work, the company in charge of designing the Lagoon has managed to give this catamaran a much larger space thanks to the new location of the cabin.
The boat is 40 feet long. Which represents almost 100 m2.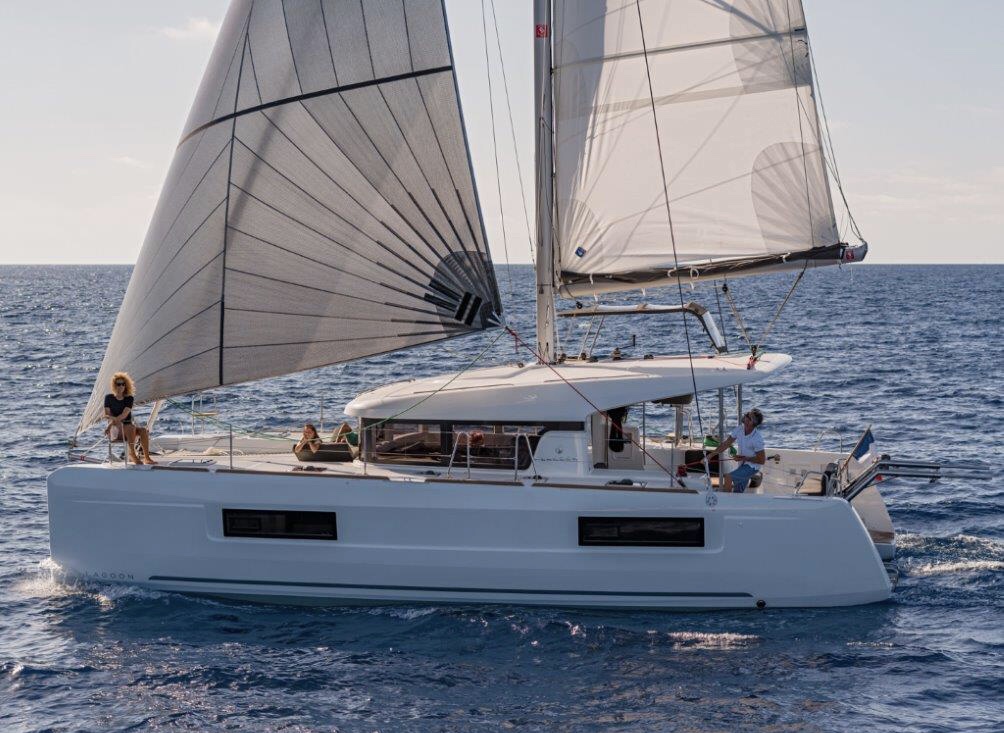 Advantages of renting boats in Ibiza
biza is famous for its beaches and coves and there is no better way to see the whole island, as well as its sister islands such as Formentera, than by boat. Thanks to the catamaran you will be able to access totally hidden and virgin beaches that you could not reach otherwise than by boat. So, live your holidays in Ibiza by boat s probably the best way to enjoy Ibiza and its splendour. So that you can see some of our favourite routes; we encourage you to see our navigation plan by clicking here. Tarida Cove,  Carbón Cove, Es vedrá or Portinax are just some of the wonders you can visit with our captain.
Interior of the Boat
If you like natural light, then you will be delighted with the interior of this boat as it has an incredible luminosity in the cockpit and cabins thanks to its large windows. There are plenty of storage spaces so you'll have no problem storing luggage or any gifts or souvenirs you might want to have from your holiday in Ibiza. An extra feature of this boat is its bow cabin, which has a convertible bed into two single beds if desired.
And so that there is no noise, the motors are away from the living area and totally isolated so that you do not have problems of noise in your cabin or in the common areas.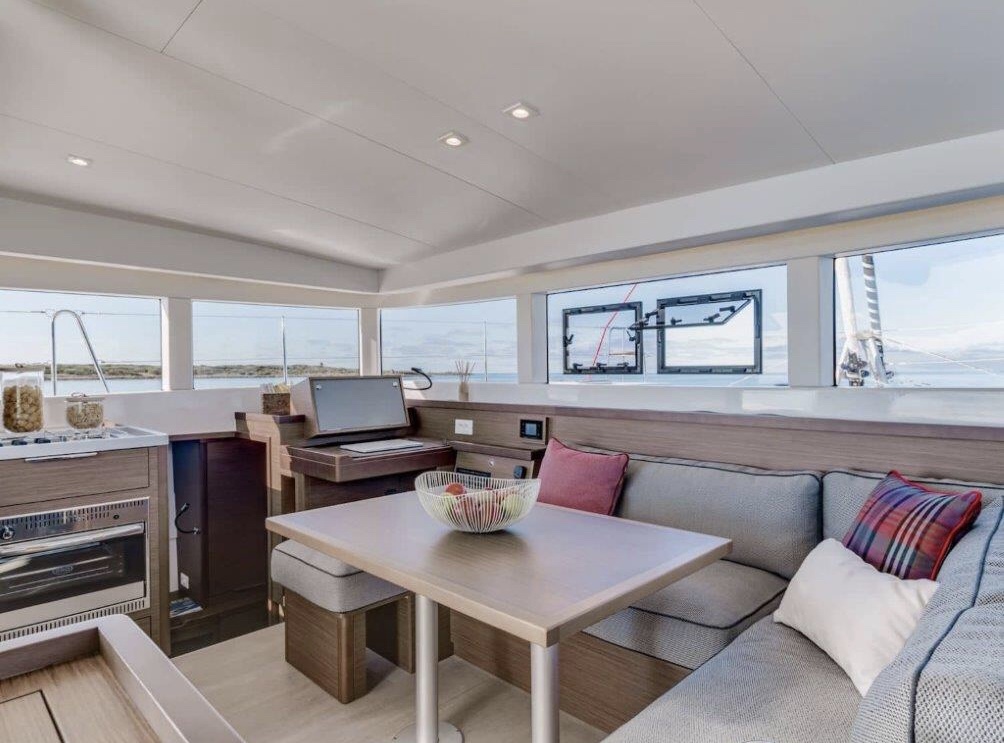 Exterior of the catamaran
The exterior of this impressive catamaran has a rigid bimini in line with the hatch, providing passengers with better protection from the sun and much smoother lines. The easy and well-protected rear movement is coupled with rear fenders that make access and boarding on this boat much easier and safer.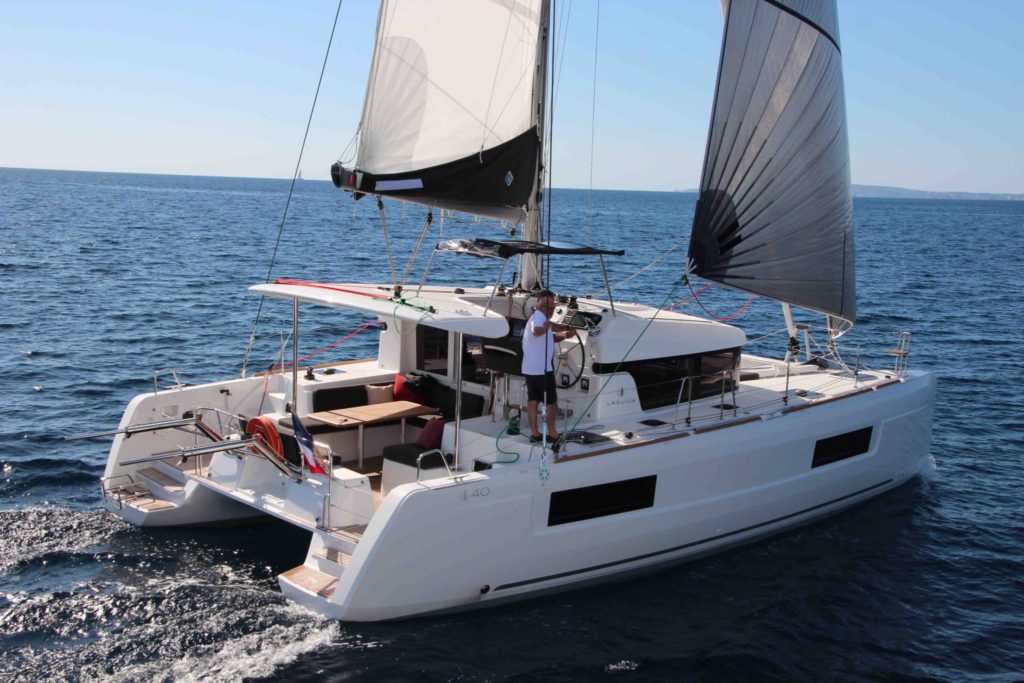 Distribution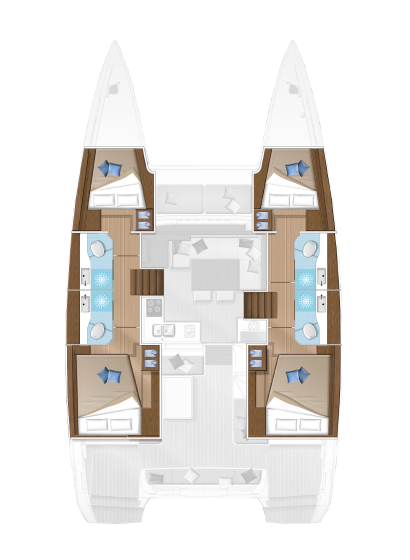 Boatcharter in Ibiza with or without skipper
Because we know that sometimes you need to enjoy privacy and navigation, we offer you the possibility of renting with or without a skipper so that you can decide how you want to know Ibiza.
Boat rental rates in Ibiza
After reading all the advantages that you have when renting one of our catamarans in Ibiza, you will surely be interested in knowing the prices and availability of our boats, so here we leave you the link to the prices of the 2020. Remember that you will be renting a fantastic week of vacation in Ibiza by boat, one of the best experiences that you can live in your life if what you like is the sea and enjoy the beach.
And some points to take into account when renting a boat in Ibiza are the following:
The check in and check out is (in general) from Saturday at 16:00 to Friday at 20:00, for special schedules you can consult by telephone or through our contact form.
If you need to sleep an extra night, from Friday to Saturday, you can do so by paying an extra 150 euros.
Sheets and towels are included in the price.
The final cleaning and the rental of the dinghy with engine to be able to embark and disembark at any beach, are also included in the price.
Catamarans do not have permanent mooring in port. The boarding and disembarkation will be done by dinghy. In case of needing mooring, this is at the client's expense and depending on the availability of the chosen marina.
To make the reservation, 50% must be paid, normally by bank transfer directly to the shipowner's account. The remaining 50% can be settled on arrival at the ship.