Speed Boat Excursions
Do you want to enjoy visiting a secret beaches in Ibiza? We invite you to discover the unknown other side of the island of Ibiza, aboard our speed boat, you only have to rent it!
The most beautiful beaches, crystal clear waters, you can enjoy accessed only by sea and sailors from experts who know every corner of the coast of Ibiza.
The islands of the West, Natural Park and Marine Reserve:
Access to the uninhabited islands of the West, with its unique sunsets and turquoise waters, in which only some ships sail and little traffic waters ensure a landscape of unparalleled beauty and tranquility in the Mediterranean Sea.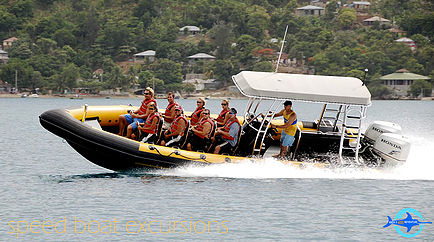 Maximum FUN 
If you want to shoot your adrenaline, apart from the high speeds that develops our boat, on the go, can perform jumps off the rocks into the sea safely and enjoying the challenge that this activity entails … who has not played in childhood to jump in the pool for hours?
AN EXPERIENCE THAT NEVER FORGET
The beaches and spectacular sunsets are in the southwest of the island of Ibiza, which is precisely where our tour passes, enjoying a refreshing swim, snorkel,
cliff jumping and always on the horizon Poniente Islands.
Music on board, the best DJs of the planet and the best atmosphere you could find in a kind of tour and activities that hardly forget and make your holidays in Ibiza, keep a very special memory.
About Ibiza
Ibiza is an island in the Mediterranean Sea, 150 kilometres (93 miles) off the coast of the city of Valencia, in eastern Spain. It is the third largest of the Balearic Islands, an autonomous community of Spain. Its largest cities are Ibiza Town, Santa Eularia des Riu, and Sant Antoni de Portmany.. Its highest point, called Sa Talaiassa (or Sa Talaia), is 475 metres (1,558 feet) above sea level.
If you prefer a higher boat, with many more facilities, then we recommend you see our boat Sessa Key Largo 27, and we are entirely at your service to answer your questions – don't hesitate to contact us.