Boats for charter or rent boat in Ibiza (Sessa Key Largo 27) is easy thanks to SunSailSea. If you want to enjoy the sea in a spectacular boat Italian design, then you are reading the appropriate page. The boat Sessa Key Largo 27 is a new boat, purchased in 2015, which features the latest technology and comfort on board. In addition to its design and finish care to the smallest detail, making this boat it is extremely careful to provide extra security.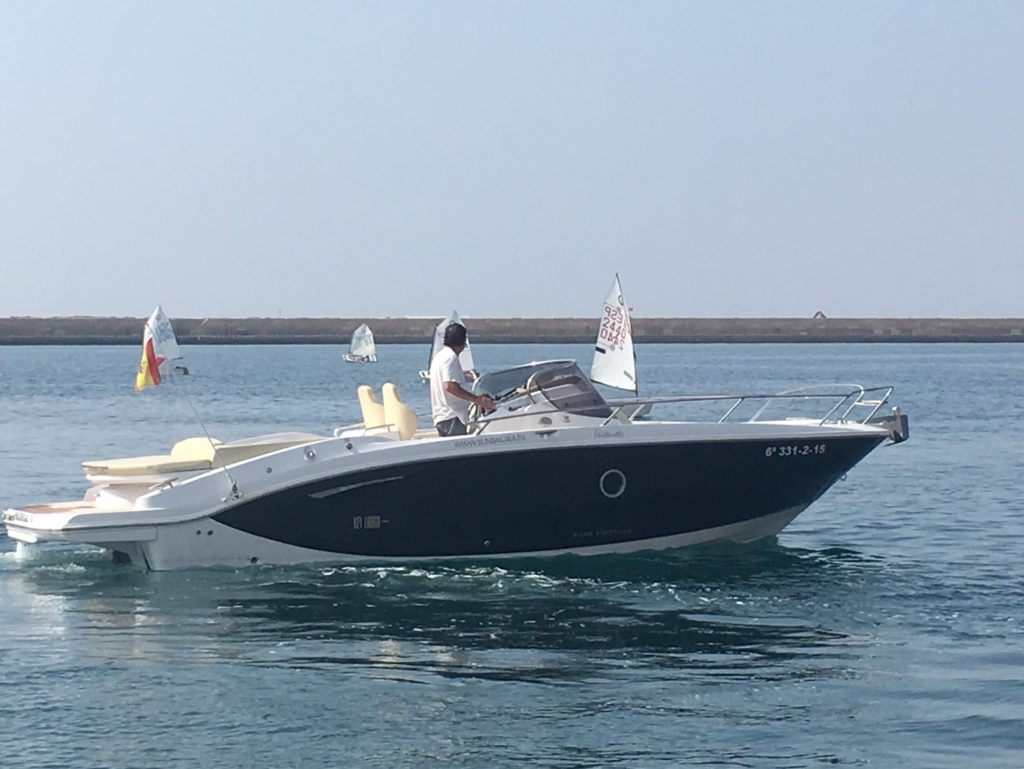 Boat purchased in 2015 ¡Rent now!
As announced above, our boat is new, purchased in May 2015 and brought from the magnificent and famous Italian shipyard Sessa. So all navigation systems are new for your enjoyment, to have a great day in Ibiza, San Antonio.

Our boat takes the internal engine, what does this mean? ocasioando noise from the engine is much smaller than conventional engines boats carrying out further space with a great platform it takes advantage much better in teak, perfect for swimming or sunbathing.

And we want the boat is maintained and offers the highest performance, the boat Sessa Key Largo is only offered rented with captain.

It has a total capacity of 7 passengers in addition to the pattern, which is an expert on the area as well as being an excellent employer, will be open to any suggestions or requests you have on your trip between the islands of Ibiza and Formentera. Furthermore, it has always been said that no one better to know a place that an inhabitant of there, so are buying the best guide of the islands and get to know places and corners that could never be accessed without a good pattern to guide you.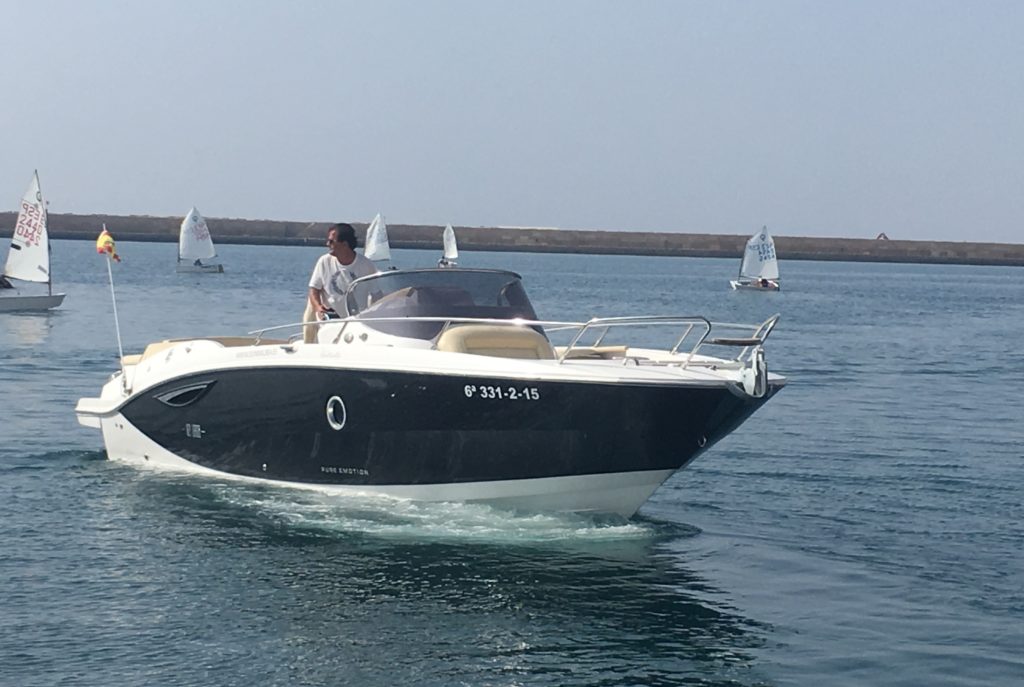 Boat for charter San Antonio: ALL INCLUSIVE
As you can imagine, you want to know the prices for renting the boat Sessa Key Largo 27, so you can see them in full in the table shown below. Needless to say that if you have any questions, you can contact us without any commitment by 'contact form'.
The rates shown here for rent in Ibiza of our boat are all inclusive, ie, the prices shown here include VAT, fuel, skipper, cleaning, etc, so if you are checking prices on other sites, keep in that perhaps their prices do not include all of these expenses. You do not take surprises when making your  rental boat in San Antonio, Ibiza.
FORMENTERA TOUR 100 € ADDITIONAL FEE
As part of our tour, you'll disembark at any point of the islands to enjoy a quiet meal at famous restaurants in the Islands of Ibiza and Formentera. One of the most famous and popular restaurants is the Calabassa Beach Club, where celebrities and people are usually attracted by the idea of fame of the restaurant itself. Of course, if you plan to stop at a restaurant, ideally you to realize a reservation since in high season is very difficult to get a table at a restaurant without reservation. But this is not a problem, what can acosejarte restaurant reservations and where to call.
Another option is that you bring your own food to not miss a second sailing the seas. To keep your food and drink in optimum condition, our boat Sessa Key Largo 27 has an outdoor electric refrigerator where you can store everything.
To not miss any view of Ibiza, the fuel included when the rental fee of the boat is designed so you can go the best beaches in Ibiza and enjoy them, which is usually done in about two hours of travel. For long-haul flights, such as round trip from San Antonio to Formentera, we charge an additional 60 € extra per hour.
What to see in Ibiza and what beaches are the best?
To begin your journey you will have to visit our berth in the same port of San Antonio, one of the most prestigious areas of the island.
Why

did we choose

this point

for our

mooring

?

Because

the bay of

San

Antonio

is

undoubtedly

the best

side navigation

Ibiza

since the

prevailing winds

during

the summer season

are avoided

from this point

, avoiding

the waves

in

the

sea

and by doing so

those who

have a tendency to

dizziness

may be

more

agusto

in the boat

.



And if

you visit

Ibiza

and want to know

our recommendations

for what to

see

in

Ibiza

, we leave

a list of

those who

are regarded as

the top 5

beaches in

Ibiza,

and

how could it

be otherwise

,

are included in

our tour

unless you want

to

modify

:
Cala Bassa: Surely you've heard more than once famous as Paula Echevarria, David Villa or international Paul McCartney. This beach has lots of bars and bars, so you have to be almost obligatory stop if you have not visited before.
Cala Salada and Cala Saladeta: If you love small coves you must visit these two. The views are spectacular and you have to keep in mind that to access on foot access to them is very complicated, the disadvantage that we forget to accessible by boat.
Cala Conta: Also known as Compte beaches or beaches count. These beaches are known for being two golden beaches and turquoise waters in the style of the Caribbean. This cove, like the Cala Bassa, are considered among the 10 best in Spain.
Cala Tarida: Stunning views and caves also has a rock from which you can jump clear waters.
Cala D'Hort: If the weather and if one of the destinations you are going to choose for the boat trip, we try to get to this cove as it is reputed to have the best views of the magical islands of Es ban. You can also enjoy a great paella at one of its restaurants.
Café de Mar and Cafe Mambo: What most famous is of Ibiza are probably these cafes, and if you go to Ibiza and not going to the Café mythical del Mar and Cafe Mambo, it's like going to Paris and not seeing the Eiffel Tower . From this point of Ibiza it is where encuenta probably the most spectacular sun set you have ever seen. You have to see it so you know what I mean.
Advantages charter boat with Sun & Sea Sail
To make your stay in the islands as comfortable as possible, offer the possibility to pick you up anywhere on the islands, Ibiza and Formentera, no matter what the boat is in the Nautic Club of San Antonio, we move to where you are.
Learn to sail!
If what you want is to learn to sail, the skipper will teach you to sail, it is another advantage to rent boat in Ibiza with Sun Sail & Sea.
Boats for charter in Ibiza, San Antonio
To charter our boat Sessa Key Largo 27 just you have to contact us using the form below or by phone (+34) 677 165 105 and we will gladly inform you or make your reservation for an ideal holiday in Ibiza.